Taylor 100 Air Race
The Taylor 100 Air Race of 19 May, 2007, saw 23 aircraft tear up the skies over Central Texas. The local weather was perfect. Not too hot, not too much wind.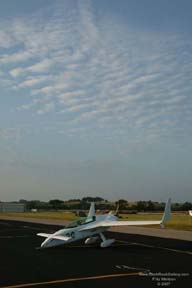 Race 20! waits to run under a perfect Texas Sky
There were some dropouts due to weather in New Mexico, some to illness and some due to mechnical difficulties, but by and large the attendance was outstanding.

Some of the 23-aircraft field to run the Taylor 100 Air Race
There were also some mechanical difficulties which were overcome.
Rene' Dugas flew his very nice Velocity XL RG in from Monroe, LA. Rene' landed, got some fuel and was heading out to run the course. He turned the key and the starter spun… but the prop didn't. Sheared starter pin!
Out came the strarter and over to the Bert Brundage maintenance hangar. Bert and Rene' tore the starter down, made a new pin out of an AN3 bolt, Rene' reassembled it, remounted it and proceeded out to run the course. Now THAT'S a field-expedient repair.
Thanks Bert!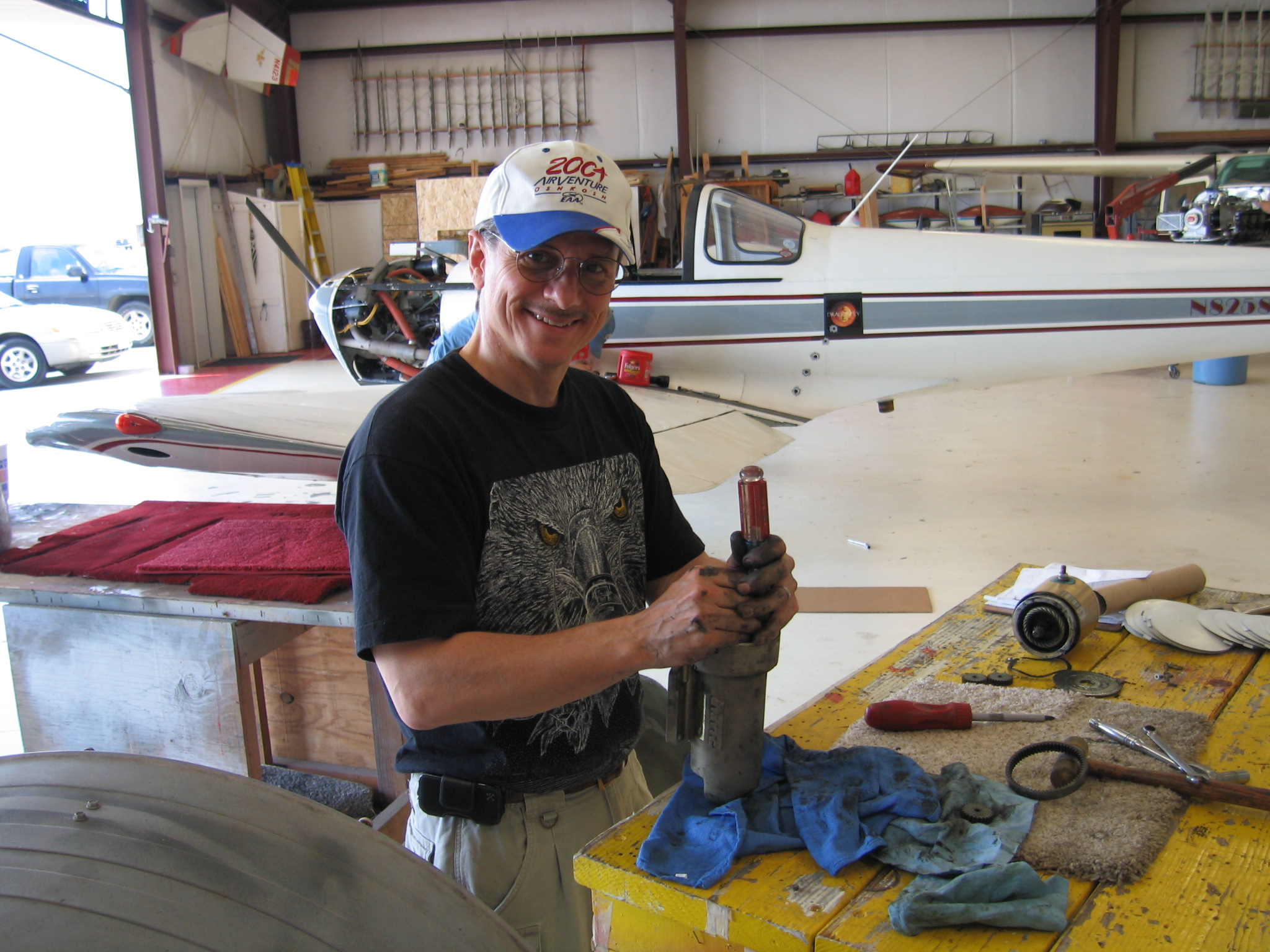 Rene' Dugas repairs his starter after landing Friday afternoon
Less luck was found in the camp of the Hammer Brothers Racing Team.
After one brother flew in from Georgia, and the other from Louisiana, they set up camp, CHANGED THEIR PROPS from cruise prop to race prop, and commenced to pre-run the course.
Everything went well, but the next morning during pre-race tuning a problem was discovered that was to disappoint the entire race complement.
Since the brothers fly essentially the same engine/airframe combination, I had asked after they landed who was faster. I think it was Steve who said, "I don't know – we'll find out tomorrow".
Electronic ignitions are wonderful things. When they work. When they don't, and the correct equipment is not available to install a mag (timer), you don't fly.
And so it was that Steve Hammer (Race 73!) sat out the Taylor 100.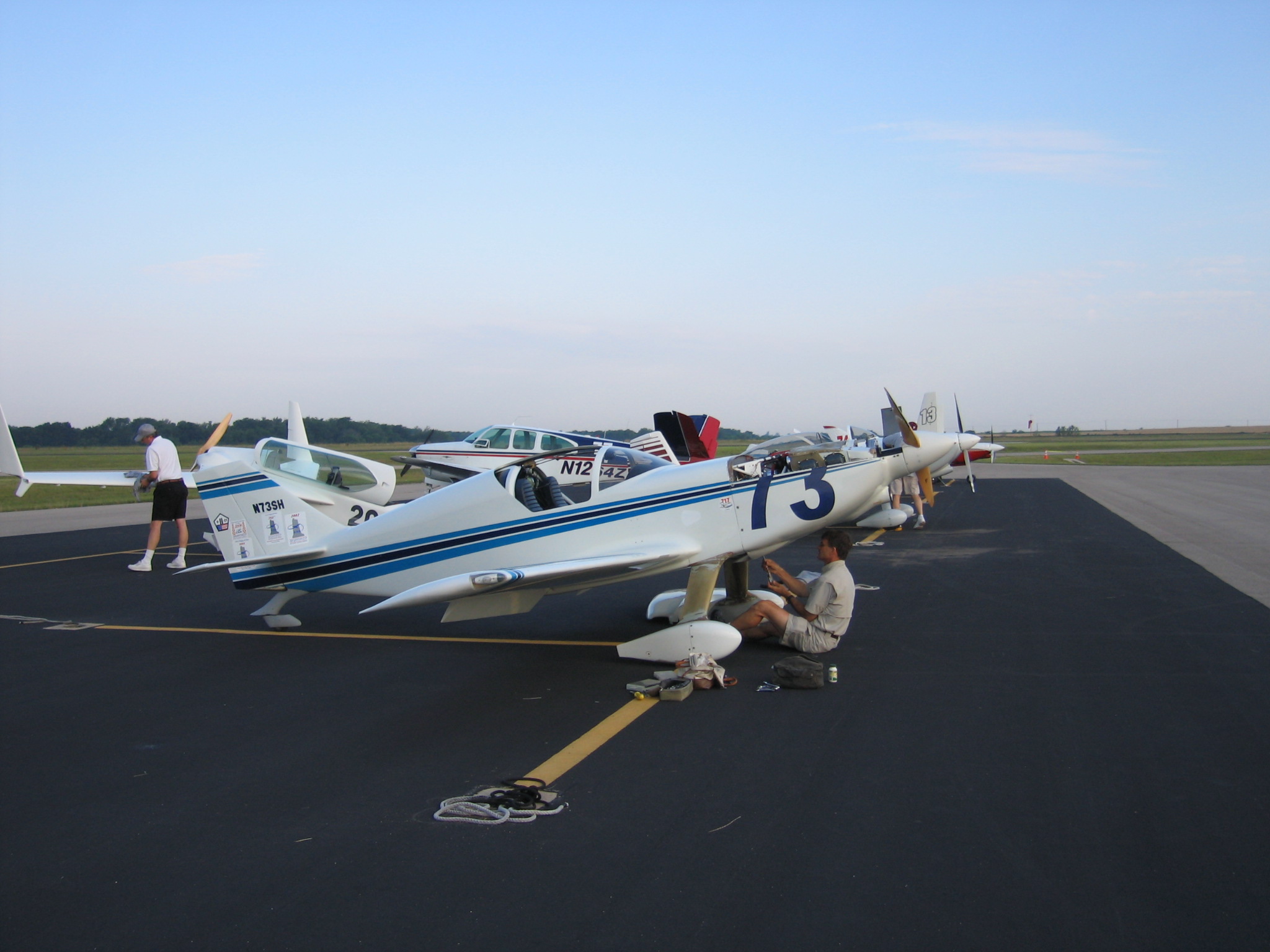 And we were SO looking forward to THAT contest!
I missed the story behind the picture of the cowl off of Race 36, Larry Henney's Lancair 360.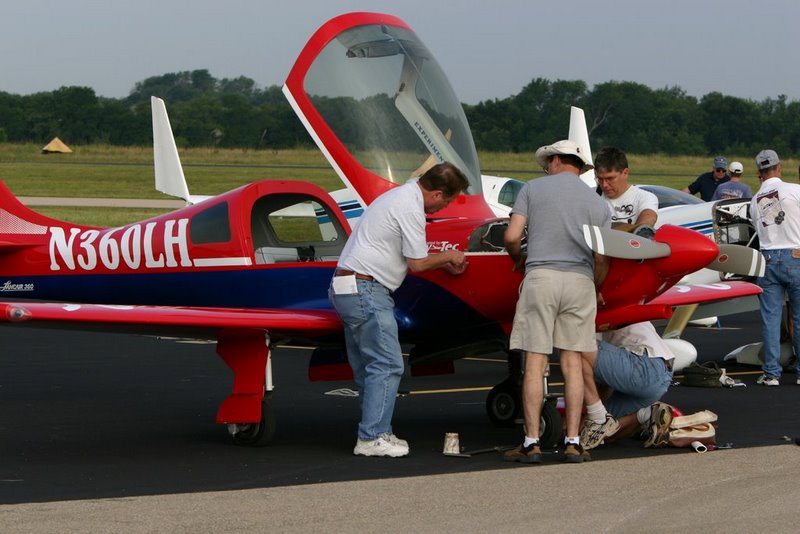 Racer and his competitors worked equally hard to repair his plane
I did hear on course that he was having to pull it back due to overheating… which would explain his speed being 5 Mph off the mark. 240.37 Mph in the Rocket 100, 235.22 Mph (corrected speed) in the Taylor 100.
The real story, of course, was the cluster of racers around the aircraft, trying to help find the problem.
We want you to fly… so we can beat you fair and square!
All racers are to be commended on their sticking to procedures, which made the ground crew's job easier, which in turn enhanced safety for all.
This was the second race held at Taylor with 20+ entries. On both occasions, the pilots involved have been nothing less than fantastic. Nary has there been even a hint of an unsafe situation.
We did have some passing on the course in this race, with some video documentation taken by James Redmon
(Race 13!) as he is passed by Bruce Hammer (Race 91!). You can see the video from James' helmet cam at
http://www.berkut13.com/videos/race91pass.wmv
You can also read James' very nice race writeup at
http://www.berkut13.com/berkut58.htm#taylor
Based on the results of this race, the speed values which are used to order the starts WILL be adjusted some… Duncan Sutherland (Race 74!) absolutely TORE UP the course in his SX300 at 290 MPH! He was first overall and showed what some experience on the pylons at Reno can do.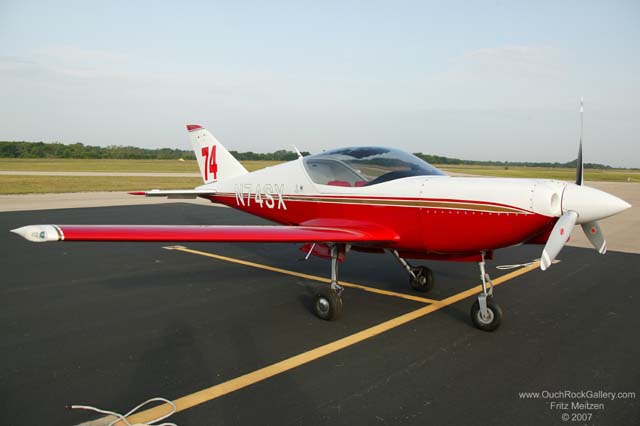 Having a Rocket Ship for an airplane definitely helps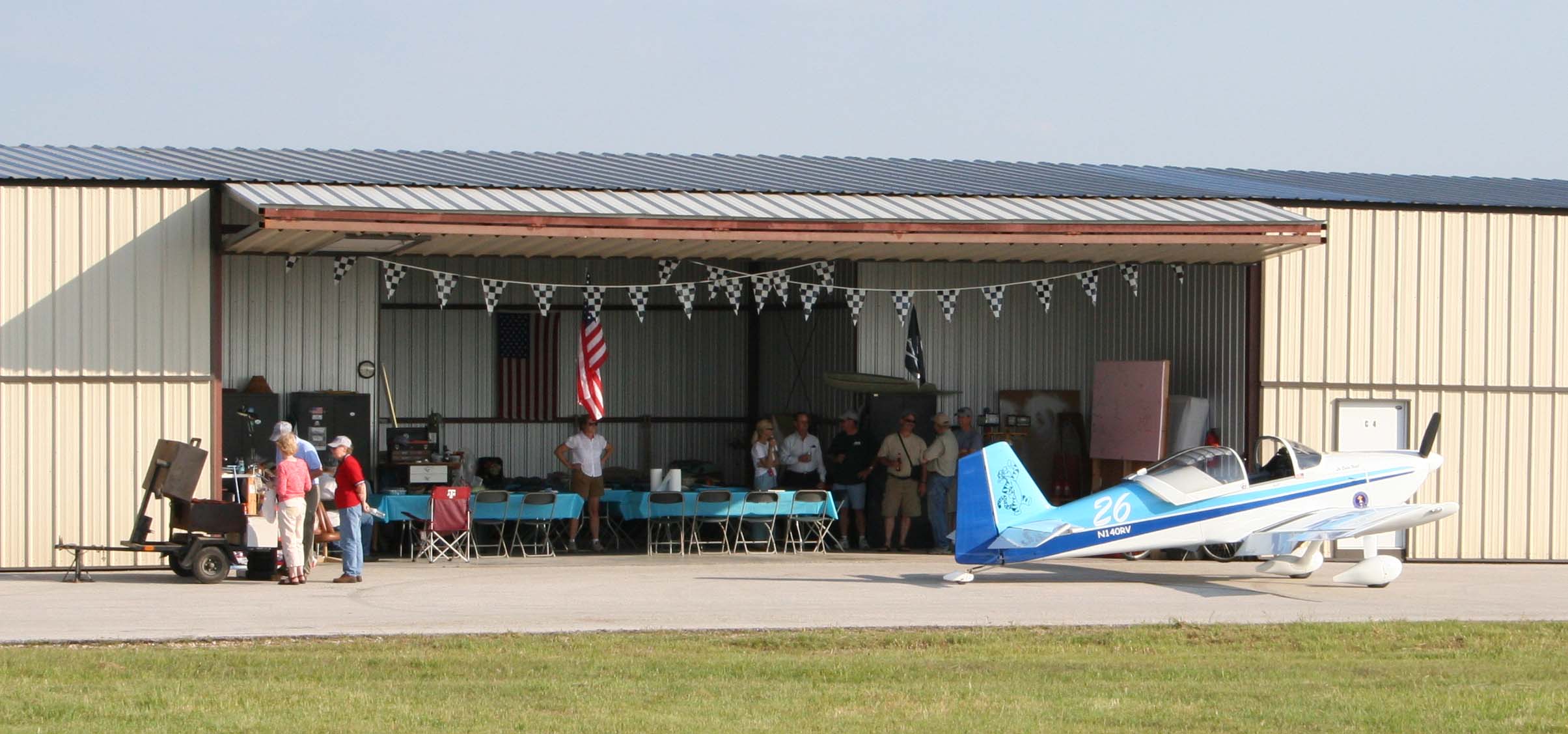 Race Central Hangar Party
Everyone who was at the Friday evening hangar party can only say to everyone who missed it, "Too bad!" A good time was had by all.
Many comments have been received from Taylor officials and airport personnel about how "professional" (their word) all the pilots were about the race. I guess they expected some of you to fly a low pass, inverted, after the race. What were they thinking?
We're just there to have fun.
After the race, and while I tried to get the stats together, EAA chapter 187 hosted a barbeque. The burgers went well with the race stories.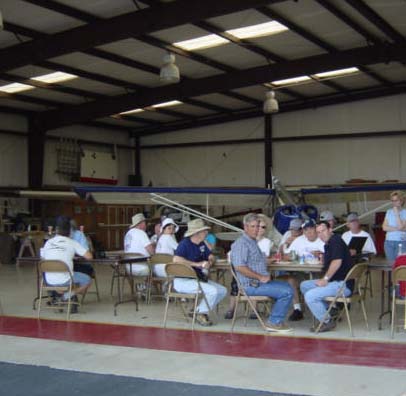 Post Race barbeque and critique. Let the lies.... I mean, let the hangar flying begin!
I have to thank everyone for their patience while I putzed around getting the scores.
We had planned a state-of-the-art timing and scoring effort which went South in the first few minutes of the race.
Fortunately we had stopwatch and paper backups ready for just such an eventuality, but that meant waiting for the last racer to finish, the timing team to arrive, manual loading of the spreadsheet… and then we couldn't make the printer in the airport office work… and by the time I was ready to announce scores, half the racers had bugged out for home.
It was a somewhat frustrating but enlightening exercise which we shall not repeat.
All in all, though, I believe it was a successful event in which everyone enjoyed good racing, good fellowship and good food.
The official scores are included below.
Taylor 100 Air Race Results
| | | | | | | |
| --- | --- | --- | --- | --- | --- | --- |
| Aircraft | Pilot | Class | Aircraft Type | Speed MPH | Speed KTS | |
| | | | | | | |
| Race 90 | Dennis Collins | Sprint | Lancair 235 | 199.21 | 173.11 | |
| Race 32 | Ryszard Zadow | Sprint | Varieze | 194.07 | 168.64 | |
| Race 20 | Ron Scarbro | Sprint | Varieze | 190.61 | 165.63 | |
| | | | | | | |
| Race 74 | Duncan Sutherland | Sport | SX300 | 290.41 | 252.36 | |
| Race 39 | Rene' Dugas | Sport | Velocity | 212.23 | 184.42 | |
| | | | | | | |
| Race 41 | Cam Benton | RV Red | RV-4 | 196.13 | 170.43 | |
| Race 08 | Bryan Jones | RV Red | RV-8 | 195.00 | 169.45 | |
| Race 68 | Willy Hackett | RV Red | RV-3 | 187.53 | 162.96 | |
| | | | | | | |
| Race 44 | Robbie Attaway | RV Blue | RV-6 | 214.58 | 186.47 | |
| Race 21 | Tom Moore | RV Blue | RV-7A | 205.15 | 178.27 | |
| Race 26 | Mike Thompson | RV Blue | RV-6 | 200.49 | 174.22 | |
| Race 71 | Bob Axsom | RV Blue | RV-6A | 194.16 | 168.72 | |
| | | | | | | |
| Race 13 | James Redmon | RG Blue | Berkut 360 | 240.38 | 208.88 | |
| Race 36 | Larry Henney | RG Blue | Lancair 360 | 235.22 | 204.40 | |
| | | | | | | |
| Race 40 | Chad Rundell | FX Red | McCracken T4 | 200.59 | 174.31 | |
| Race 06 | Jim Hogue | FX Red | Mustang II | 189.98 | 165.09 | |
| | | | | | | |
| Race 91 | Bruce Hammer | FX Blue | Glasair TD | 253.90 | 220.64 | |
| Race 52 | Don Saint | FX Blue | Glasair IIS FT | 229.25 | 199.21 | |
| Race 69 | Mike Sasser | FX Blue | Giles G202 | 200.10 | 173.88 | |
| Race 19 | Mike Deeter | FX Blue | Velocity | 176.52 | 153.39 | |
| | | | | | | |
| Race 43 | Jerry Gardner | FAC 3 | PA-24 | 157.73 | 137.06 | |
| | | | | | | |
| Race 77 | Jim Huff | FAC 2 | Beechcraft 35 | 198.72 | 172.69 | |
| Race 55 | John Albury | FAC 2 | Bonanza | 196.32 | 170.60 | |
| | | | | | | |
| | | | | | | |
| | | | | | |
| --- | --- | --- | --- | --- | --- |
| RRace 726 | Graig Gifford | Biplane | Eagle | 174.25 | 151.42 |